Welcome to St. George Greek Orthodox Church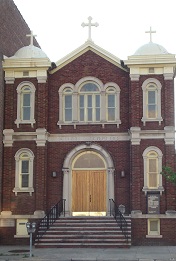 "Welcome one another, therefore, just as Christ has welcomed you, for the glory of God." - Romans 15:7

For over 100 years, St. George Greek Orthodox Church has served as a beacon of Christian light in a city that brought electricity to the world! And we invite everyone to "come and see" by attending our regular Sunday (9:30 AM) Divine Liturgy service.
For Orthodox Christians, worship produces theology. So, by attending the services, we understand its meaning and significance. Come and read along with us as we pray, and come and hear the beautiful byzantine chants and hymns as we endeavor to grow closer to God.
Visit or join our ministry groups that teach Christian principles and explore the Orthodox faith. Please view the Church Ministry page under the About Us tab on the top left corner of this page.
For more information about Orthodox Christianity, we invite you to contact the Parish Priest at (518) 393-0742.
And please, join us this Sunday!
---


---
Parish News
Sunday School began on September 17, 2023. Click
Here
and Register Now!
Greek School began on September 21, 2023. Click Here and Register Now!
Regular Service Schedule
Sunday: Orthros 8:30 AM, Divine Liturgy
9:30 AM
Monday: Paraklesis 5:30 PM followed by Bible Study at 6:30 PM
Feast Days: Orthros 8:30 AM, Divine Liturgy 9:30 AM
For a full calendar of services click here.
To watch services live click here.
Greek Festival
Our Greek Festival is held annually on the second weekend of September. This year our community hosted a wonderful festival with amazing food, music, games and dance on September 8, 9 & 10! Please click here for photos from our festival.
Adult Programs
Philoptochos Society

AHEPA Chapter

Senior Fellowship

Thursday morning boys

Book Club/Bible Study

Adult Greek Language Class

Choir
Our adult fellowship programs are up and running! We host coffee hour after church on Sunday. Our church has a wonderful Philoptochos society dedicated to doing good deeds for the church and the poor. Our Senior fellowship offers a wonderful opportunity for our seniors to join together and connect with their church family at least once a month in addition to Sundays. We also have an AHEPA chapter for the men dedicated to doing good deeds for the community. We have Paraklesis to the Theotokos followed by Bible Study every Monday evening. Paraklesis starts at 5:30 PM and Book Club/Bible Study begins at 6:30 PM in the church with a Zoom option to make it easy for anyone far to join in. And finally we offer Greek Language lessons for adults every Wednesday evening via Zoom.
Youth Programs
Religious Education with Father
Zoom meeting

Greek School in person

Greek School via Zoom

Greek Dance

Youth Program ages 4-17
Our church offers Youth Zoom Meetings to discuss religious topics and scripture with Fr. Neofitos every Tuesday at 5:30 PM, Greek School with Culture and Greek Dance Instruction in person on Thursday evenings and via Zoom (Greek Language only) on Friday evenings. Our youth program organizes youth events throughout the year for children ages 4-17 including the Christmas Tree Lighting, Palm Cross making, Easter Egg Hunt, and more. Our Greek dance program also meets every Monday evening throughout the summer months in preparation for the festival during which it puts on an amazing performance every year.
For more information on how to sign up for the adult or youth ministries please call our office at (518) 393-0742.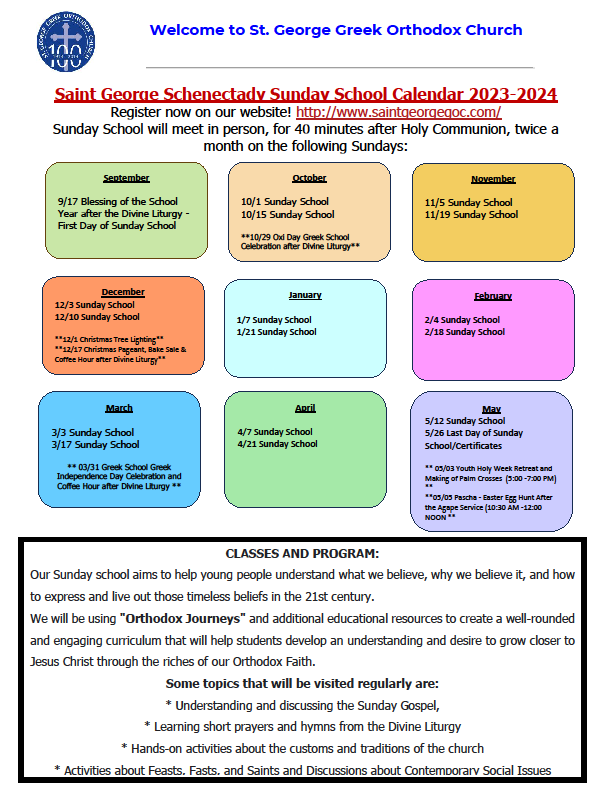 Upcoming Events
St. Barbara the Great Martyr
Dec 4
Dinner and Q and A with Father
Dec 4 6:30 pm
St. Savas the Sanctified
Dec 5
Orthros and Divine Liturgy
Dec 5 8:30 am
Orthros and Divine Liturgy
Dec 6 8:30 am
Youth Greek School via Zoom
Dec 6 4 pm
---
Adult Greek School Registration has begun: The Adult Greek Language School 2023-2024 begins on the Wednesday right after Labor Day via Zoom. It comprises 30 sessions and ends before mid-May. The tuition is $300 per student. This includes the textbook for the first time a student takes any of the classes. The book is 'Modern Greek' 8th Edition, by Th. Papaloizos. Register Now Click here!
For more information about Greek School and Photos please visit our Greek School website:
https://sites.google.com/view/st-george-greekschool
Greek School Registration Form:
https://forms.gle/jXXmTiq7MWb9X4o16
---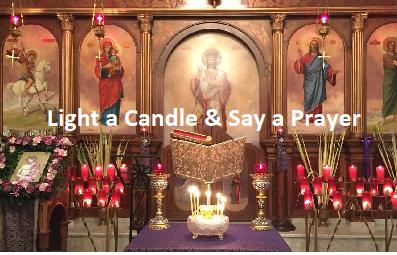 Contact Us
Parish office hours are 9:00 am - 2:00 pm, Monday through Thursday. Please click here to view the prior church service videos.